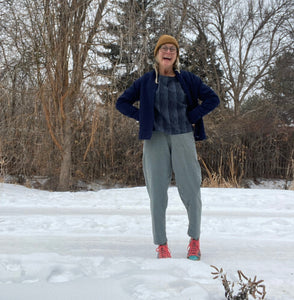 Workshop: Pomona Pants
Regular price $140.00 Sale
Workshop: Pomona pants (( a 2 night workshop ))
When: October 2nd +3rd 5-8:30 pm both nights
Have you wanted to learn to make pants? Are you super intimidated???
Don't be!!! These are the "it" pants from Denver designer Anna Allen. Super chic and well constructed. The best part is they are also the easiest pants to make with one main pattern piece and a pocket. Make wide or narrow legged pants. They will both go with the one-yard top. We have made so many of these pants and every time I have them on someone asks me where I got them and oh how good it feels to be like oh I made them.... 
This is a beginner friendly class...but you do need to know how to sew on a sewing machine!
Cost: $140 you will need to bring your own fabric, thread and elastic. 
Classes are not refundable.