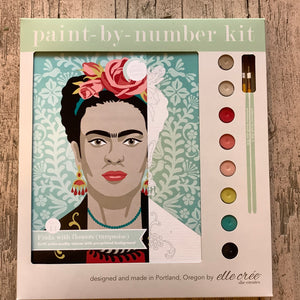 Paint by number Frida w flowers
Regular price $40.00 Sale
About our Shero: "Feet, what do I need you for when I have wings to fly?" - Frida
Frida was born in the early 1900s, in Mexico City, where she became known throughout the country as a talented portrait artist. Despite enduring chronic pain due to a bus accident when she was 18, Frida painted pictures that told incredible stories about the world around her and developed a signature style that became celebrated across the globe.  
"Frida with flowers (turquoise background)" depicts a portrait of the beautiful Mexican artist Frida Kahlo with roses in her hair. The pre-printed background features Mexican folk art design. Completing the painting can take between 3-5 hours. When completed, select a frame at your local craft store and display! Recommended for ages 13 and up.
Contents:
(1) 8x10 artist-quality, unmounted canvas with pre-printed background

(8) American-made, non-toxic, acrylic paints

(2) Princeton brush paintbrushes

instructions
You will need:
Cup of water to wash brushes between colors

Small cloth or paper towel for drying brushes

Cotton swabs for fixing small mistakes

Toothpicks for stirring paints (optional)

8x10 frame or clip board to display your completed artwork (optional)
PAINT GUARANTEE
If your paint pots are dry or insufficient to complete your project, email ellecreepdx@gmail.com for replacement or additional paint.