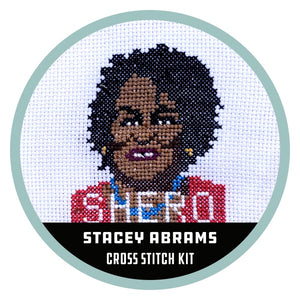 Maker General Stacey Abrams Cross Stitch Kit
Regular price $28.00 Sale
These kits are super near and dear to our hearts and came to be through this most extraordinary time. We are by no means perfect as humans - we don't practice enough activism, donate enough money or time or even always remember to use the pronouns you've asked us to - but we're trying. And to acknowledge that effort, we are going out on this limb hoping that you will join us on this journey. Let's see some more representation in the craft world + celebrate the words and actions of BIPOC and other marginalized folx.

This first round of kits just scratches the surface of our long list of ideas. It includes the likenesses of Prince and Harriet Tubman and an abstracted representation of the work of the Quilters of Gees Bend.
We hope that you will want to stitch the likeness of Harriet Tubman and honor the amazing contributions she made to the world. If you don't know the quilts of Gees Bend, take a second to look them up and be stunned by the beauty of the work. It was fun to play around with the shapes and colors and to honor them in a different way with fiber. Prince needs no introduction. All of these kits are appropriate for beginners in either cross stitch or embroidery. Each kit contains everything you need to get started, including pre-printed (or aida cloth and pattern) fabric, needles, thread and a hoop! Just bring the scissors :)
We commit to donating 5% of each kit sale to an organization that supports marginalized
folx - the first round of donations will go to the Colorado Freedom Fund.
There's more. Each month of 2021, we will release a new
kit - we hope you are ready to make some meaningful stitches! We also hope you love stitching these as much as we have loved creating them.